RUSKIN & LORD RONALD GIOWER AGAIN
Following the publication of blog #29 on "Ruskin and Lord Ronald Gower", I was delighted to hear from Bonhams in New York that they are auctioning a letter from Ruskin to Gower that provides further evidence of the nature and extent of their friendship.
I was delighted to assist Bonhams with their item description, which reads as follows:
"8vo (180 x 110 mm), 1 p, on a bifolium, on Brantwood stationery, n.d. [but likely 1875,] old folds, neatly tipped to larger sheet, and laid into:
"WEY, FRANCIS. Rome. London, 1875. WITH BRANTWOOD BOOKPLATE OF JOHN RUSKIN (Dearden 2). Folio, Morocco-backed cloth boards, gilt, top edges gilt, by Birdsall & Son.
"RARE RUSKIN LETTER TO LORD RONALD GOWER, who was most famous as the model for Lord Henry Wotton in Oscar Wilde's The Picture of Dorian Gray. Gower and Ruskin met at least three times, and the familiarity of this letter, offering comfort in a continuing discussion of the death of Gower's mother (who had died in October 1868), hints at more. The two men had met in late 1871 at William Cowper-Temple's Broadlands estate. In 1875, Gower visited Ruskin at Oxford in February, where they stayed in Ruskin's study and 'talked together far into the night' (Gower, My Reminiscences, London, 1885, pp 376-7). We suspect this letter follows on the heels of that evening. Gower and Ruskin shared a friendship with Oscar Wilde, who was close enough to Ruskin to ask him to be godfather to his second son Vyvyan, born in 1886. However, both Gower and Wilde are conspicuously missing from the monumental 39-volume The Works of John Ruskin, edited by Cook and Wedderburn, published between 1903 and 1912. This rare correspondence between Ruskin and Gower is an interesting addition to Ruskin scholarship and the discussion of art, politics and sexuality in late 19th-century England."
This auction item listing is here.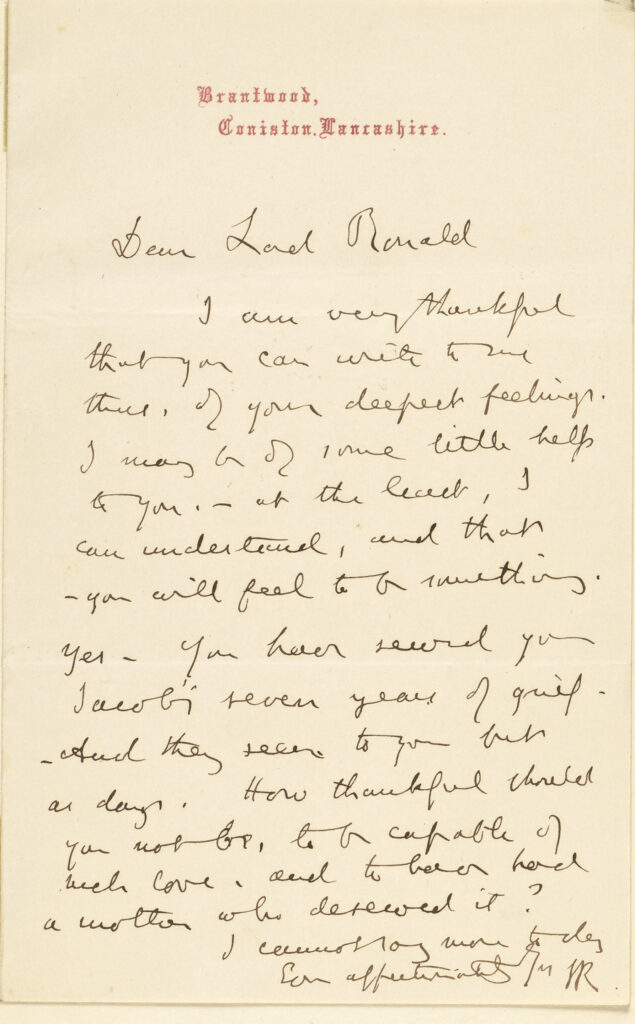 Letter from Ruskin to Lord Gower
The letter reads:
"Brantwood
"Coniston, Lancashire

"Dear Lord Ronald

"I am very thankful that you can write to me thus, of your deepest feeling. I may be of some little help to you,— at the least, I can understand, and that you will feel to be something.

"Yes — You have served your Jacob's seven years of grief. —And they seem to you but as days. How thankful should you not be, to be capable of such love, and to have had a mother who deserved it?

"I cannot say more to-day,

"Ever affectionately yrs, JR."
With thanks to Bonhams New York for permission to reproduce the image and text of the letter.