Among the earliest Companions of Ruskin's Guild of St George were two eminent citizens of Scotland's "granite city". James Walker will form part of the story that follows, but this blog will focus on his friend,
THE RUSKINIAN BUILDER:
JOHN MORGAN OF ABERDEEN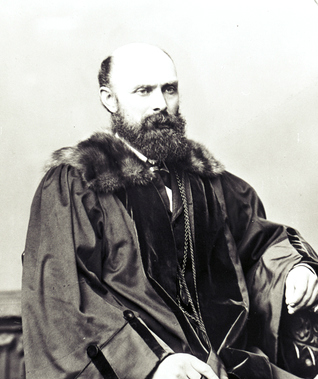 John Morgan (1844-1907) was born in the Aberdeenshire village of Kennethmont. His father was a tenant farmer, and he was the eldest of what became a large family. He learned to fend for himself at an early age. His education at the local parish school was rudimentary. In the early 1860s he moved to Aberdeen where his uncle, Adam Mitchell, a builder, employed him as a mason. Morgan was more adept at office work, however.
Among the first plans and specifications he prepared related to the Denburn Valley Railway. Mitchell had won a contract with them in 1865. Morgan studied the building industry closely, and laid solid foundations for his life-long career. He continued to serve as a loyal trustee and assistant to his uncle's business until Mitchell's death in 1877, and in the final years he became his patron.
Encouraged by the Rev. Dr Longmuir and other localnotables, Morgan developed a voracious appetite for books which he studied diligently. He joined the Aberdeen Senate, a debating society, where he met many like-minded men whose fellowship he cherished all his life.
Following his uncle's death, Morgan became head of the firm, eventually becoming the sole proprietor. He turned  Adam Mitchell & Co. into one of Aberdeen's leading building companies. He gained a reputation for his thoroughness and the depth and breadth of his knowledge, and for his substantial, distinguished and tasteful work.  He was frequently employed as a 'valuator' (a valuer of properties). But his main business was masonry. Among the buildings he worked on were the extension of Marischal College, including its students' union; Mitchell Hall and Mitchell Tower; the offices of the Northern Assurance Co.; and Canada House, the railway offices in Guild Street; Kittybrewster School; the Grand Hotel, and extensions to the Palace and Imperial Hotels; Blackhall Castle; Craigmyle House; and numerous churches. He also supplied granite dressings for buildings a long way from Aberdeen—in London, Liverpool, Douglas, New York, Toronto, and Sydney.
His obituary gives a sense of the breadth of his achievements, and underlines the central role he came to occupy in the community.
"In the modern development of Aberdeen—on its building and architectural side—Mr Morgan otherwise took a very distinctive part by feuing out ground and building residential villas of attractive design, subsequently disposing of the feus and houses to individual purchasers. He, in this way, laid out large portions of Thomson Street, Belvidere Street, Argyll Place, Hamilton Place, Queen's Road, and Rubislaw Den (South and North), erecting well on to 150 houses. He occupied […] a leading position in the building trade, and for a great number of years he was secretary of the Master Masons' Association, being latterly a member of the Conciliation Board. He was a director of Messrs Alexander Macdonald & Co. Ltd. He was also a director of the Seaton Brick and Tile Co., the Scottish Employers' Accident Assurance Co., the Aberdeen District Suburban Tramways Co., the North of Scotland Property Co., the Aberdeen Savings Investment Trust, and the Union Club."
For all this, he was, by all accounts, a modest man.
"A quiet, self-contained, and unassuming man—unobtrusive to a degree, and almost to be designated 'retiring' in his manner and habits—Mr Morgan was nevertheless induced to enter municipal and public life."
He had two daughters, one of whom was married to James Yule, a tobacconist. Morgan's wife died in 1906. Morgan died on 3 July 1907 at his tasteful home at 50 Queen's Road, Aberdeen, jointly designed by himself and the architect J. B. Pirie, and located on the site of Rubishaw House. His funeral took place two days' later at Springbank Cemetery.
PUBLIC LIFE
Morgan was a Unionist in politics, and in religion a member of Queen's Cross United Free Church.
In November 1883, when the architect James Matthews was Provost of Aberdeen, Morgan stood for the Council, but was unsuccessful. He was eventually elected in March 1885, and continued to serve until 1892. For the last three years he served as the city's Treasurer. Having been convenor of the Education Committee for many years, he was appointed a Governor of Gordon's College in 1889, a post he retained until his death, always taking a great interest in the institution's affairs. He also enthusiastically supported the establishment of the Technical College.
He was a member of the Art Gallery Committee. He was appointed a Town Council representative on the Public Library Committee in November 1886 and continued until the end of 1892. He chaired the committee which approved the building of the library on Rosemount Viaduct which opened in 1892.
LITERARY TASTE
His obituarist described him as a "a man of highly cultured tastes". He built up a magnificent library, and allegedly owned "the most complete collection of Ruskin's works extant, for Mr Morgan was an enthusiastic admirer of Mr Ruskin and of his writings, had frequently corresponded with him, and possessed many interesting letters from him." We will examine these claims in more detail below. Chief among Morgan's other literary heroes was Thomas Carlyle.
"On one occasion, Mr Morgan—who all his life was a diligent 'book-hunter' and a discriminating purchaser—acquired possession of a Life of Cromwell which was unknown to Carlyle; he forwarded it for Carlyle's perusal, and had it returned to him with a letter abounding in characteristic comment."
Morgan's interest in books was substantial and serious. He keenly studied the ideas they contained. But he also derived great aesthetic pleasure from collecting books as beautiful items of furniture, "books that are works of art in respect of their typography and binding". He owned a complete set of the exquisitely-produced works issued from the Kelmscott Press by William Morris, including Morris's printing magnum opus, the much-admired but costly Kelmscott Chaucer. In his final years he amassed a large collection of editions of "Omar Khayyam". His library was vast, varied, and valuable. It included poetry and "belles lettres", but was unsurprisingly strongest on architecture and the fine arts.
On 26 March 1908, following Morgan's death the previous July,  his  library of 293 lots was sold at Sotheby's in London. It raised £1000. Some details of the sale provide further insight into his literary taste and the nature and extent of his collection. Among the treasures were:
36 lots related to "The Rubaiyat of Omar Khayyam" (mostly editions translated by Edward Fitzgerald);
a First Edition of Milton's Paradise Lost in a Zaehnsdorf binding (which achieved the highest price for an individual work of £29 10s.);
eight volumes of Walter Pater;
a First Edition of Sterne's Sentimental Journey;
a 17th-century Persian manuscript (£4 4s)
a 15th-century Indian manuscript,
a First Editions of Rossetti's Ballads and Sonnets in a Zaehnsdorf binding; Christina Rossetti's A Pageant and Goblin Market; Swinburne's The Queen Mother and Rosamond in a Riviera binding;
Alexander Dyce's Shakespeare in nine volumes;
a First Edition of Shelley's Essays;
seven volumes of Whistler's works;
a First Edition of Mary Wollstonecraft's Original Stories with plates by Blake and bound in mottled calf by Riviera;
an edition of Keats's Endymion from New York's Elston Press;
Spenser's Faerie Queen (the T. J. Wise edition);
Turner's Picturesque Views in England and Wales (two volumes);
Morris's translation of Homer's Odyssey with two pages of the translator's MS (£2 18s, bought by Edwardes).
We will consider his Ruskin collection below.
At the time of his death, Morgan was one of the oldest surviving members of the Aberdeen Philosophical Society, and a member of its council. He read a number of papers, including one on "Omar Kayyam" in March 1901.
MORGAN AS A RUSKINIAN
One of Morgan's papers to the Aberdeen Philosophical Society, read on 7 January 1879, was entitle, "On Professor Ruskin and his Society of St George".
The report given in a local newspaper of that talk summarises succinctly Morgan's understanding of Ruskin's Guild of St George, of which Morgan was a Companion (member). For that reason, it is worth quoting at length.
"At a meeting of the Aberdeen Philosophical Society on Tuesday night—Sheriff Comrie Thomson presiding—Mr John Morgan read a paper on 'Professor Ruskin's Society of St George'. The chairman briefly introduced Mr Morgan, who proceeded to give an outline of the laws, statutes, and objects of the company or [G]uild of St George. He said Professor Ruskin claimed no originality for the principles on which he seeks to establish his Society of St George. They are professedly the same as those on which are based the grand old ideals, social and philosophical, that form so considerable a part of the world's best literature. The lands of the company are to be brought into the highest possible state of cultivation by purely manual labour, and with due regard to its capabilities. All work will be conducted on strictly monastic principles, and more with a view to future good than present profit. The first settlers will be families selected by old landlords and paternal overseers who know their people, and must be cheerful, honest, wayfaring men, who have been accustomed to obey orders, and live in the fear of God. Whether that fear be grounded on Roman, Anglican, or Presbyterian ideas will be a matter of Supreme indifference, so long as the family is capable of any kind of sincere devotion, and is conscious of the sacredness of order. In conclusion, the nature of tenancy, modes of cultivation, and payment of tithes were then shortly described, as also the dwelling, dress, and permitted possessions of the company's retainers. A good deal of discussion followed the reading of the paper, and a vote of thanks was given to Mr Morgan."
A similar lecture by Morgan on the Guild was reproduced in the Manchester Magazine. Morgan made two particularly interesting points in this second lecture.
First, he argued that Ruskin
"teaches that it is by personal example more than by precept that men of ordinary power will do the greatest measure of good to their fellows […]"
Second, he stated:
"To divert a portion of the mighty current of English charity and justice from watching disease to guarding health, and from the punishment of crime to the reward of virtue; to establish here and there exercise grounds of life instead of hospitals of death, and training schools of labour and virtue instead of penitentiaries and prisons which foster idleness and crime […]"
Morgan was admitted as a Companion of Ruskin's Guild by a letter dated 4 September 1875, written in Ruskin's rooms at Corpus Christi College, Oxford, and reproduced by Cook and Wedderburn in the Guild volume (vol. 30) of the Library Edition of Ruskin Works. Morgan is acknowledged as one of the original 32 Companions on the Roll of the Guild. [[See Works 29.477.]] This letter, however, suggests that Morgan was in fact among the first 15. Morgan's initials appear 21st on a list of 25 Companions given at the end of Letter 61 of Fors Clavigera in January 1876. [See Works 28.503.] Ruskin wrote to Morgan:
"DEAR MR MORGAN,—I cannot easily tell you how much your letter pleases me, or how glad I shall be to have you for a Companion. I have not, among the number yet accepted (about fifteen), found one yet so able to feel and act with me in all essential points. I trust also that among the Scotsmen whom you know, or may easily find access to, among your older farm and shepherd population, there may be several who will be glad to join us.

"The chief duty of the Companions, for some time to come, will be making the fact of our organization known, and explaining its patient purpose. I will send you some little things out of my library or engraving drawer, which may be pleasant additions to your library as a collector.

"I cannot write much to-day, being tired—but do not doubt being often now in communication with you. And with my respects to your wife, and love to your little girl,

"Remain, ever faithfully yours, JOHN RUSKIN." [Works 30.299.]
Given Morgan's work to promote the Guild in Aberdeen, it is evident that he took Ruskin's words to heart and crucially acted on them. If he received any gifts from Ruskin, as promised, they remain unidentified. It is clear from the incomplete financial accounts published in Ruskin's Works that both Aberdeen Companions, John Morgan and James Walker, each regularly contributed an annual subscription of a guinea to the Guild.
James Walker deserves further attention. In September 1879 Morgan joined forces with Walker, his friend and fellow Guild Companion in Aberdeen, to form the local Ruskin Society. The local press reported that
"Aberdeen owns at least two companions of Mr Ruskin's Society of St George, in the persons of two much respected citizens, Mr James Walker, wine merchant, and Mr John Morgan, builder. And the two gentlemen named have just issued a circular, inviting attention to the Ruskin Society, or 'Society of the Rose'—as suggested by Mr Ruskin himself—formed in Manchester, and which 'finds the occasion of its existence in the need, felt by a few students, for associated sympathy, through which to gain expression for the manifold thoughts and feelings evoked by the deep and sincere works of the famous art critic, and writer on political economy. […]

"What Messrs Walker & Morgan say is, that they 'are desirous of introducing a local knowledge of this society to Aberdeen, and they will be glad to be associated in this work with those who have felt the power of Mr Ruskin's writings, and who may wish to extend and strengthen the influence of his teaching upon themselves and others. Communication will be received by either of them, and they cordially invite the help of all who sympathise with the purpose, and are willing to aid in its accomplishment.' To this we can only add our commendation. That John Ruskin is a man of singular genius, and lofty moral and spiritual aims, will be denied by none; and few even of those who may differ from him on economic questions, for example, will refuse to admit that an extended knowledge of his general teaching is fitted only to purify and elevate the national life of Britain."
Both Morgan and Walkley subscribed to the 70th birthday address sent to Ruskin in 1889. We'll consider Walker in more detail below.
In 1885, Morgan published an Index to Mr Ruskin's "Notes on Royal Academy Pictures". This was an index to the six numbers of Ruskin's Academy Notes. Morgan's index was printed for private circulation by Aberdeen University Press, of which he was a director. There was a second edition in 1890. [See Works 14.312.] Though useful, it was far from complete.
JAMES WALKER
We should pause here to say a little more of James Walker (1829-1895). In common with Ruskin's father and Guild patron Robert Bennett (see blog #18), Walker was a successful wine merchant. He worked in his father's prosperous firm of Messrs William Walker & Sons, a tea and wine merchant based on Union Street. When James Walker died, aged 65, in January 1895, his estate was valued at £10,000. He was a noted philanthropist, and he and his brother Alexander were often compared to Dickens's Cheeryble brothers. Although he took a great interest in art and literature, the main passion of Walker's life was music, musical philanthropy and musical education.
As such, Walker was a tireless promoter of music in schools and church psalmody. He ran singing competitions for schoolchildren. He was a founder member in 1852 of the Aberdeen Music Association, and he served as its president for most of its existence. He was also president of the Orchestral Society, Director of the Music Hall Company, and he donated his vast collection of music and musical works to Aberdeen Public Library in 1891. He subsequently added to it, and some of the works were usefully annotated by himself.
Walker belonged to no political party, and served no municipal role, but he had a keen interest in tramways, and was director of the local company. He was one of the first shareholders of the Aberdeen Land Society, and shortly before his death he had become its chairman. He was a local director of the Scottish Provident Society. He was also influential in advising on aesthetic matters at a time when the district of Torrys and Rubishaw were under development. Always keen to beautify parts of the city, he put his money where his mouth was and contributed generously from a financial point-of-view.
Walker's admiration for Ruskin was important to him. His obituary even describes him as "a disciiple and friend of Ruskin". It went on: "Of a singularly open and responsive nature, his ideals, like those of that master, were high." It continued:
"Mr Walker was exceedingly well read, and possessed a fine literary taste. He was a personal friend and ardent admirer of John Ruskin, and in a pamphlet which he published for private circulation, on his favourite topic of music, called Form, Colour, and Sound, one can trace in the ornate sentences the influence of the great master's style. This pamphlet Mr Walker afterwards enlarged and published—also for private circulation—in a handsomely got up volume, with the title Mus Intonation in Song and Speech. Mr Ruskin was pleased to express his high opinion of it with a friendly criticism of it which he sent to the author."
Walker was a member of Trinity Congregational Literary Association which he addressed in October 1879 to promote the Ruskin in general and the Ruskin Society in particular, but no account of the talk seems to have survived.
According to the curator of the Ruskin Museum in the 1890s, William White, there was in the library of the Guild of St George a copy of Robert Walker's On the Planting of Trees in Towns (1890), two papers read at the North of Scotland Horticultural Association, revised, issued, and presented by Messrs. Walker and Morgan.  [See William White, Library and Printed Books (1890) p. 91.]
MORGAN'S RUSKIN LIBRARY
Among the Ruskin book from Morgan's library auctioned at Sotheby's in 1908 were the following volumes—just a few of the many he owned:
a First Edition of Seven Lamps (sold to Mr Thomas for £8 7s. 5d.);
Fors Clavigera, with an autograph letter (£2 16s.) [see below];
a Fourth Edition of The Stones of Venice;
Letters Upon Subjects of General Interest, a vellum copy bound by Zaehnsdorf (sold to Dobell for £2);
Letters from John Ruskin to William Ward, printed on vellum (1893) (sold to Dobell for £3 3s.); and
Letters from John Ruskin to Rev. J. P. Faunthorpe MA, printed for private circulation (sold to Thomas for £3).
The press reported that:
"The Ruskin items in the catalogue, which numbered 66, were not at all in request, the best price being £4 6s. paid by Mr Dobell for [Of] Queens' Gardens—a lecture delivered at Manchester and afterwards included in Sesame and Lilies. The text of the copy sold yesterday differs occasionally from that in the latter work, and it is believed to be the text of the lecture as delivered. Mr Dobell also secured The Nature and Authority of Miracle, one of a few copies printed for private distribution, for £4 4s."
Cook and Wedderburn reproduced the text of the autograph letter tucked into the edition of Fors Clavigera, quoting from the Sotheby's Sale Catalogue (no. 59, 3 July 1908). [See Works 37.736.] This, however, is an inferior and incomplete version of a letter they quote in full in the Guild volume of the Library Edition. Dated 29 March 1877, Ruskin's letter was written from Venice.
"MY DEAR MR MORGAN,—I to-day received your most interesting letter, and must at once reply to beg you, on the one side, to take up at once a firm ground for your conduct in future as a Scottish tradesman; but on the other, not to torment yourself by continued deliberations of the degree in which concessions must be made to external force.

"As the manager of business in the interests of others, you are in a peculiarly difficult position; and your only safety will be in a printed declaration of the mode in which your business is to be carried on. On this I will consult with you. To-day I only acknowledge your letter, and assure you of my interest in it.

"Most truly yours,
J. RUSKIN" [Works 30.299-300.]
John Morgan's professional career, public life, personal interests, collecting practices and personal interests testify to the energising influence of John Ruskin.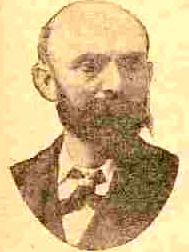 SOURCES
[John Morgan's obituary] Aberdeen Press and Journal (4 July 1907).
[On Morgan's Ruskin talk to the Aberdeen Philosophical Society] Weekly Free Press and Aberdeen Herald (11 January 1879).
[On Morgan's talk to the Ruskin Society] John Morgan, "'What is the Guild of St George?' Abstract of a lecture delivered to the Aberdeen branch of the Ruskin Society" in Manchester Magazine, vol. 2 (January 1880), pp. 116-118.
[On the launch of the Aberdeen Ruskin Society] Weekly Free Press and Aberdeen Herald (20 September 1879)
[On James Walker] Aberdeen Press and Journal (30 January 1895).